AI, Media, and the Aesthetics of Absence
"Once you are able to see the unseen, your next task is to test whether what you have seen is real or imaginary." -- Ecclesiastes

If the future of media is manipulation, then the antidote to this future is a Zen kind of emptiness. Not "nothingness" nor a "void," but rather the non-limitation and nondefinition of the infinite. With Deep Angel's artificial intelligence, you become an active participant in the chaos of media creation. You can erase objects from photographs. Like Joseph Stalin, you can treat history as a malleable fiction, disappear unwanted artifacts, and develop a new world order. But, be careful. Once you know how to erase history, your view on history might change. The reassuring illusion of photography as fact will vanish. Seemingly paradoxically, a truth emerges from the revelations of falsehoods.


The act of erasure draws its roots from the photographic palimpsests of Everything. These works of art are inspired by Solzhenitsyn who wrote, "You only have power over people so long as you don't take everything away from them. But when you've robbed a man of everything, he's no longer in your power -- he's free again."
Speaking of freedom, next time you take a selfie, try to imagine the audience who will view that photograph. You are staring right at them, but you never see them. Diego Velazquez, the original selfie taker, pioneered the method of flipping art from the spectacle of the scene onto spectacle of the seeing. In Las Meninas, you are looking at a painting in which the artist is staring back at you.
The Deep Angel AI is designed to share Angelus Novus' message: progress can turn into the unrelenting unfurling of entropy, but it does not have to. Instead, humankind can remove the objects that mediate our relationships, step out of our selfish accumulation driven egos, and peer into the soul. The A.I. disappears objects from images. Symbolically, it makes material immaterial. By voiding the material, Deep Angel becomes its own dada-like spectacle annihilating any remaining aura left in the photographs it processes.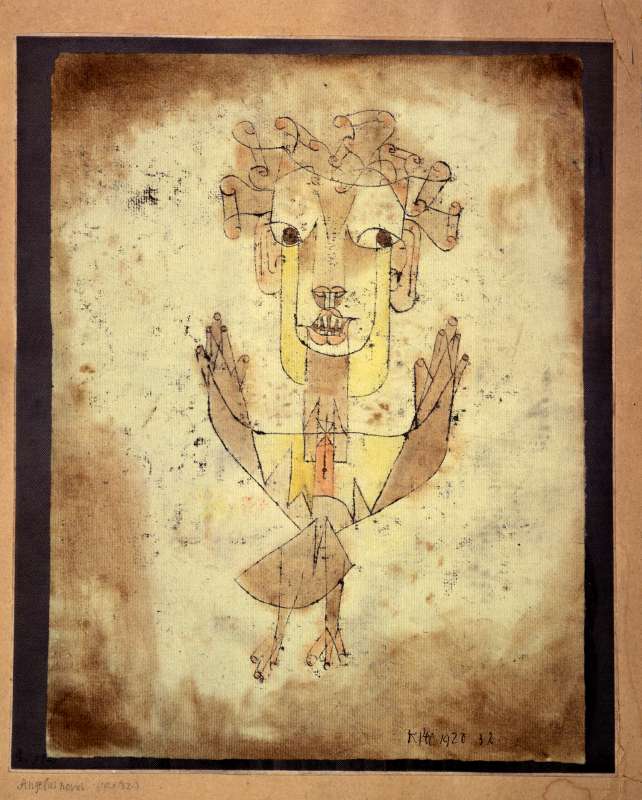 The aura is what's missing. That nostalgia to return to an artisanal, pristine past is not a Golden Age fallacy. It's about the technological constraints of the ancient Greeks to produce reproductions. Reproductions were prohibitive, which forced art to be unique and encompass eternal values. The aura is the unique existence, the here and now, the full context of the medium. All deviations from the original medium are lossy to the message.
As Marshall McLuhan put it, "We become what we behold. We shape our tools and then our tools shape us." Now, you have a tool to explore via negativa. Know thyself.